Calculated Muscle Memories
Opening June 14th, 2019
6 pm – 10 pm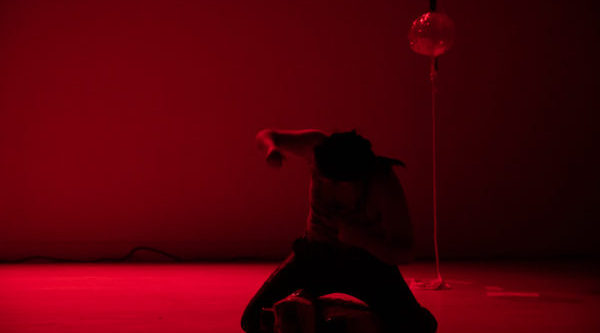 To protect ourselves from past, present, and future harms, we each engage in self-preservational behaviors in order to process, cope, and move forward. Calculate Muscle Memories investigates the fixation brought on by self-preservational thinking, questioning how and whose bodies are affected and implicated. By exploring the effects of internalized social and political pressures on the body and mind, five artists ask how we prepare for the unexpected and visualize the unpredictable–but inevitable–future. Acknowledging that memories can have a lasting impact on how we navigate physical and emotional spaces, how do these exhaustive processes push towards better futures? Can these preparations and anticipations themselves produce catastrophe?
Jesse Meredith and Chicago Art Department Core Resident Marcela Torres isolate and deconstruct movements of self-defense. Through technical motions of blocking, striking, kicking, and footwork, Torres breaks down her larger work Agentic Mode, a durational 40-minute performance addressing violence against people of color within the context of a war zone. The videos first define the four main movements of Muay Thai before they are brought together in improvised choreography constructed from memories of reactionary successful blocks or unguarded hits in training. Meredith segments motions used in self-defensive firearms training to separate the body from the weapon. Exploring the problematic culture of firearms protection training, his work centers on the process of physically training by navigating fictional scenarios that keep one body safe while dehumanizing another as a target.
Cameron Clayborn's bodebuilder 1 continues this tension between the relationship of body and mind, processing past memories that influence how we navigate space and continue to have lasting agency through self-identity. In the work, Clayborn's inner voice, or "bode," expresses memories, fears, insecurities, and desires leading the body through both meditative and physical exercises. In an abstracted domestic space of curtains and flesh-like vinyl sculptures, Clayborn's process does not have a clear end goal but instead visits moments in his personal history as a black gay man to explore his feminity and identity.

Aviv Benn and Herman Aguirre use painting to process anxiety of current social and political states. By using thick layers of paint, turning the canvas, and warping the dried paint form, Aguirre's self-portraits in Espejo/Mirrors abstract his face to one that is unrecognizable. His portraits give visibility to interior trauma experienced through gang violence in Back of the Yards and his familial histories with violence in inner cities in Mexico. The paintings' three-dimensional forms protrude from the canvas, looking themselves to be battered through his making and healing process. Breaking the body into pieces, Benn's work is both humorous and traumatic and searches for unexplainable meanings. Using symbols like the evil eye, astrological signs, and parts of the body including legs and hands, her paintings ask us to use personal experience to construct order, understand the chaos, and connect the limbs ourselves. Both artists prompt the viewer to turn inwards and be self-aware of their own complicated role as viewers of traumatic narratives when engaging with the paintings. The abstraction brings ambiguity to Calculated Muscle Memory, asking us to be vulnerable both in the space and extending outside of it into our own communities

Bringing artists working in intense durational and physical art practices together across various mediums, the exhibition spotlights the intensive processing that is experienced both singularly and communally, and without an understood end result. One can feel isolated in the act of understanding oneself and becoming "better," but what "better" actually means or feels like is left obscure and unknown. The artists themselves face their own trauma straight on and as we (the viewers) gather as an act of support, the show perhaps gives us the courage to allow for our own moments of introspection.
Calculated Muscle Memory
Works by  Herman Aguirre, Aviv Benn, Cameron Clayborn, Jesse Meredith, and Marcela Torres
Curated by Rachel McDermott
CAD North Gallery
Opening, June 14, 2019
Closing, July 6, 2019 

Gallery Hours by appt. Email carris@chicagoartdepartment.org to schedule an appt.