CRYSTAL BALL 2022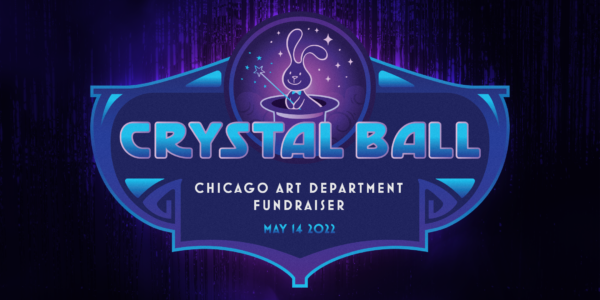 Crystal Ball
Saturday, May 14, 2022 | 7-11pm
Chicago Art Department
1926 S. Halsted St.
Chicago, IL 60608
CAD is turning 18 — let's celebrate! Join Chicago Art Department as we celebrate the Magic of Community together again at the Crystal Ball on Saturday, May 14, 2022. For almost two decades, CAD has provided space and resources for socially minded artists to grow their practice while questioning the city we live in.
The evening will feature an Alumni Art Auction, Raffle, Immersive Experiences, and Artist Interventions that celebrate bright futures. On display in CAD's Main Gallery will be Everything Must Go, an exhibition featuring the works of Chicago-based multidisciplinary artist Jeffrey Michael Austin. Emcee and Deejay will be DJ LOKari, formally known as Elgin Smith, and sharing a special musical performance will be members of the critically acclaimed group Black Monument Ensemble, led by CAD Co.Lab artist, Damon Locks.
The Crystal Ball will also honor three individuals who exemplify the Magic of Community and are making a catalytic difference in Chicago.

2022 Crystal Ball Honorees (from left to right):
Artist Recognition Award | Silvia Inés Gonzalez
Community Recognition Award | Alderman Byron Sigcho-Lopez
Inaugural Crystal Award for Public Service | Erika Dudley
Guests will enjoy open bar, sweets station, and heavy appetizers while supporting Chicago Art Department and its mission. The Crystal Ball helps fund CAD's yearly programming, exhibitions, subsidized artists residencies, and general operations.
*Ticket Information:
Individual: $100
Couple: $175
Party of 5: $425
Artist/Student: $65
Afterparty Only (9-11pm): $45
*Please note: Regular ticketed guests (7-11pm) DO NOT need to purchase an Afterparty ticket, it is included! Afterparty tickets should be purchased if you wish to attend the Afterparty only portion from 9-11pm.
Regular ticketed guests (7-11pm) enjoy:
Open Bar
Local Bites + Sweets Station
Award Presentation to Honorees
Silent Auction + Immersive Experiences
Prize Raffle
Electrifying Musical Performance + Deejay LOkari
Afterparty only guests (9-11pm) enjoy:
Open Bar
Pizza Buffet
Magical Vibes by Deejay LOkari
ARTIST INTERVENTIONS
Benjamin Barnes | Chicago Magic Lounge | Live Magic
Melissa Castro Almandina | Live Poems
Jonathan Castillo | Snap Yourself! Photobooth
Dana Major | Live Crystal Seeing
Galina Shevchenko | Augmented Reality
Georgina Valverde | Documents Bureau
Rhonda Wheatley | Live Tarot
IMMERSIVE ART INSTALLATIONS | Jane Georges, Curator
Featuring:
Ruben Aguirre
Macus Alonso
Melissa Castro Almandina
Kari Blak
Catie Burrill
Mari Crespin
Sofía Fernández Díaz
Jane Georges
Silvia Inés Gonzalez
Lisa Jenshke
Oscar Lopez Flores
Violet Luczak
Dana Major
Broderick McGarvey
Olivia Oyamada
Renee Robbins
Samuel Schwindt
Jochen Steirberger
Valerie Xanos
Joanie Faletto + Myles Emmons of Zoi Zoi Studio
Kent Henderson & Dud Lawson of Depression Press MFG. & INK, INC.
SILENT AUCTION
Featuring:
Jeffrey Michael Austin
Arturo Fresán
Sarita Garcia
Sam Kirk
Gunjan Kumar
Kate Lynn Lewis
Violet Luczak
Liz McCarthy
Joseph Josue Mora
Galina Shevchenko
Diana Solis
Amanda Williams
Richard Zeid
RAFFLE
Grand Prize | Private Afternoon Workshop | Depression Press MFG. & INK, INC.
2nd prize | Original art by Dud Lawson
3rd prize | Original art by Silvia Inés Gonzalez
Accessibility:
Chicago Art Department is an accessible space. For additional questions about event accessibility or to request accommodations, please contact carlos@chicagoartdepartment.org.
Event Sponsorships:
To discuss customized sponsorship packages for individuals and/or businesses, or for more information about Crystal Ball 2022, please contact vivian@chicagoartdepartment.org.
THANK YOU TO OUR 2022 CRYSTAL BALL SPONSORS