Fragile, Lay Flat: 2D & 3D Install Workshop
NOV 17, 7-10PM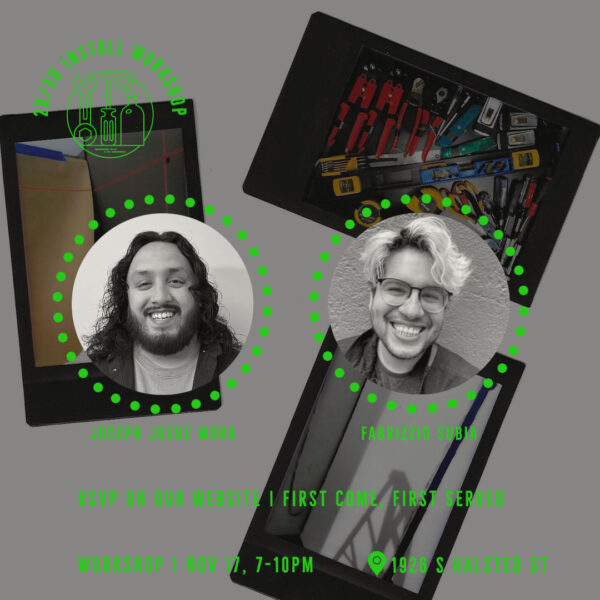 Have you ever wondered how your favorite artwork was installed on the wall? Want to learn how it was done? Then sign up for our FREE upcoming workshop Fragile, Lay Flat: 2D/3D Install, led by Joseph Josué Mora and facilitated by Fabrizzio Subia. This workshop will be an overview of essential art handling and installation practices: power tools, hardware, preventative practices, wall repair, and more. Spaces for this workshop are limited to 10 and are first come, first served. Register through our website.
Joseph Josué Mora is a Mexican born and Chicago raised artist. His work depicts the nuances of existing in the U.S. and the art world with a politicized identity as a DACA-mented person. Mora hauls from his career, as a gallery worker, and qualities of minimalist and conceptual art to communicate and question the parallels of the processes and spaces he exists in. 
Fabrizzio Subia is a Chicago-based multidisciplinary artist and performer from Guayaquil, Ecuador. He is the Resident Preparator at Chicago Art Department and Assistant Manager of Exhibitions at the International Museum of Surgical Science. His work explores the forces that shape an internal Latin-American identity.