In Conversation: Free Write Arts & Literacy
Opening June 14, 2019
6 pm- 10 pm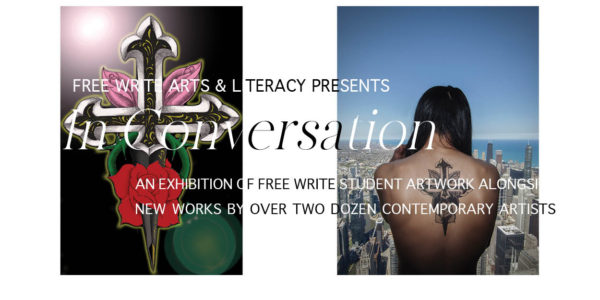 Please join Free Write Arts & Literacy for a very special exhibition of student work, In Conversation.
In Conversation invites over two dozen internationally recognized artists to create original work in response to Free Write student visual art, poetry, animations, and audio recordings.
 
For almost 20 years, Free Write has been working inside locked facilities like the Cook County Juvenile Temporary Detention Center (CCJTDC), offering literacy and arts education to detained youth. As an extension of this programming, Free Write produces regular publications and exhibitions to bring forth student work and stories beyond the walls of the jail and into the public sphere. These efforts serve to celebrate, validate, and elevate the work of our students, while also instigating complex conversations about the carceral system, justice, and community accountability.
 
This year, we invite artists from Chicago and beyond to be a part of that conversation. Each piece will be exhibited alongside its source material and included in a printed catalogue, forging discourse and dialogue between artists inside and outside of detention.
 
Alongside the exhibition, Free Write will host its first major fundraising event on June 22, MoneyBall. The original work created in response to Free Write student artwork will be available for purchase at auction to benefit Free Write's continued programming and advocacy work.
 
In Conversation is curated by Chelsea Ross, with assistance from Omar Dyette.
 
Free Write Arts & Literacy Artists: Adam M., Adrian W., Cornelius H., Darian G., Destine P., Frankey L., Hector M., Jasmine, Jeremy D., Jonathan, Joshua S., Jovanny S., Kenneth T., Keshawn H., Kian M., Meisha, Monica L., Nakiyah P., STREETZ,
Featured Artists: Alexandra Antoine, Angela Davis Fegan, Chelsea Ross, Damon Locks, Derrick Woods-Morrow, Don Crescendo, Elizabeth De La Piedra, Emilio Rojas, Iris Bernblum, Jared Brown, Jeffrey Michael Austin, Liz Gomez, Liz McCarthy, Marzena Abrahamik, Melissa Castra Almandina, Nancy Sánchez, Norman Teague, Patricia Nguyen, Ryan Searchl1te, Shawné Michaelain Hollway, Tarnynon Onumonu, Tim Nice, Zakkiyyah Najeebah