Contra Corriente Festival July – September, 2023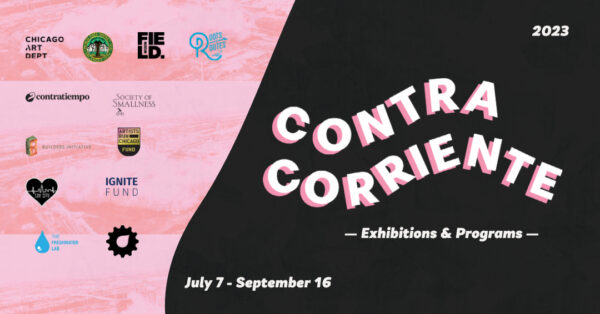 Contra Corriente highlights the work of artists, activists, and organizations working to advance racial and environmental justice on the South West Side of Chicago and beyond. The pilot iteration of the project took place at Chicago Art Department in the spring of 2022 and included 6 artists in its inaugural exhibition. Contra Corriente will return in July 2023 as an annual festival, expanding support for artists and curators, building on collaborations with neighboring community spaces, and amplifying efforts to address environmental racism through disruptive art interventions, bilingual workshops, and events like educational picnics and river tours across Chicago. All of CC's planning partners, program facilitators, participating artists and community leaders stem from communities directly impacted by (and are fighting against) environmental injustices.
Primary Festival Objectives
The festival has eight main objectives: (1) use art to bolster cross-community resilience and coalition-building between folx at the frontline of environmental racism while visibilizing silent and predatory capitalist complexes contributing to the toxification of BIPOC and working class neighborhoods, (2) uplift the work of activists, environmentalists, animal advocates and community members working to revolutionize food culture in Chicago, (3) support a growing coalition of young Latine leaders advocating for a life of abundance for South West Side residents through their creative practices, (4) Create more visibility for people of color invested in these issues, (5) advocate for a more equitable redistribution of the city's resources, (6) create grieving spaces for BIPOC Chicagoans affected by pervasive environmental issues, (7) empower community organizers and environmentalists to identify as social practice artists, and (8) cultivate an understanding of the interdependent nature of the health of all regions of Chicago.