DARED TO BE BLACK & SHINING
Jan 6th – 30th, 2023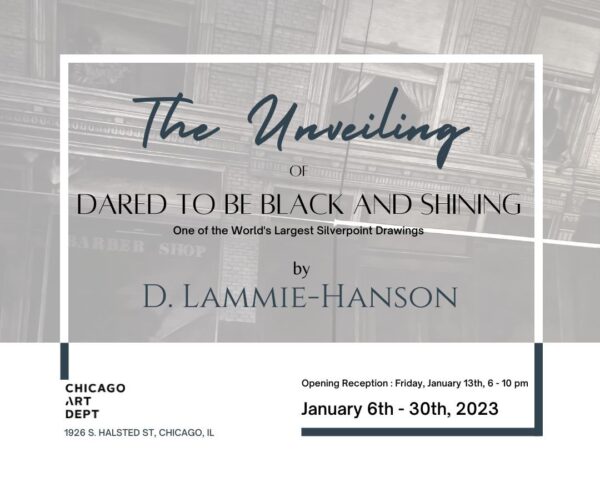 "Chicago-based contemporary silverpoint artist D. Lammie-Hanson has created a stunning, evocative and massive artwork in "Dared to Be Black and Shining." This piece, which measures a commanding 96 inches by 144 inches, is one of the world's largest silverpoint drawings and showcases the artist's skill and dedication to their craft. It will debut at the Chicago Art Dept to the public as it is unveiled for the first time.
The artwork, which is rendered on black surfaces and  nostalgically depicts the artist's childhood memories of growing up in Harlem, NYC. It features the architecture of a tenement building and its storefronts, populated by family and friends both past and present. The artist's use of silverpoint, a traditional drawing medium in which a thin silver wire is used to create delicate lines and shading, adds depth and texture to the piece; it dates back to Da Vinci and his contemporaries.
Overall, "Dared to Be Black and Shining" is a powerful and moving tribute to the artist's roots and the vibrant culture of Harlem. It is a must-see for art lovers in the Chicago area."