The Pre-Vinylette Society
Sept 8th – Sept 28th, 2017
Closing Sept 28, 6-9pm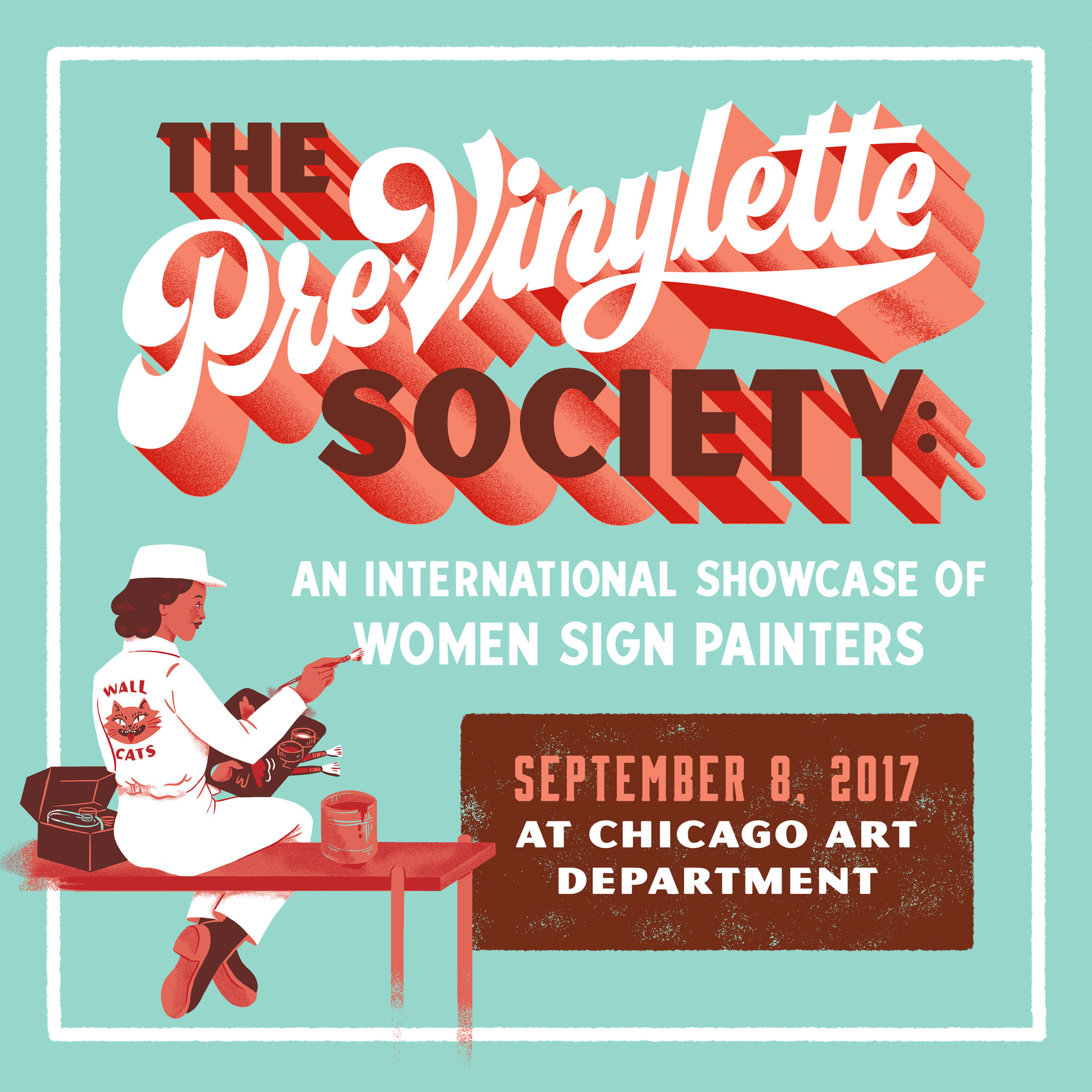 The Pre-Vinylette Society
Sept 8th – Sept 28th, 2017
Opening Reception Friday September 8th, 6-10pm
Pre-Vinylette panel discussion: Saturday September 9th, 2-4pm
Closing Reception Thursday September 28th, 6-9pm
Chicago Art Department – 1932 South Halsted
Gallery Hours: Saturday September 9th, 16th, 23rd, 12-5pm or by appointment
The Pre-Vinylette Society: An International Showcase of Women Sign Painters
Chicago Art Department and the Pre-Vinylite Society are proud to present a group art show celebrating the work of more than 60 women sign painters from 9 countries around the world! This show, the first sign painting exhibition to feature women only, will display the talent of an international array of female sign painters with a wide range of experience and skill. With the current political climate in the United States and beyond, this exhibition offers a vital feminist statement that pushes back against the common belief that the field of sign painting, like many skilled trades, is the domain of men alone.
The Pre-Vinylette Society's International Showcase of Women Sign Painters will feature text-based works in enamel and gold leaf on wood, metal, or glass. It will also include a companion catalogue featuring short interviews with each of the artists. In the week leading up the exhibition, a group of more than 20 international women sign painters will design and paint several murals on the exterior walls of the gallery and adjacent sites. We will also host a panel discussion/audience Q&A with the curators and select artists on September 9th at the gallery.
The name of our show—the Pre-Vinylette Society—is a tongue-in-cheek re-appropriation of the grammatical "ette" suffix, which typically denotes a female or smaller version of a male or more substantial (read: better) thing. As language is at the forefront of sign making, this show allows for more female voices to be heard than most historical and even recent surveys of the trade have acknowledged. By reappropriating the "ette" formation, the women of the Pre-Vinylite Society are asserting their rightful place in the long tradition of sign painting and the lettering arts.
The Pre-Vinylette panel discussion is an informal Q&A with the curators and select artists from several countries, moderated by Kelsey McClellan and Meredith Kasabian. The artists will discuss their backgrounds, ambitions, and visions for the future of sign painting. It will take place on Saturday, Sept. 9th from 2-4pm at Chicago Art Department.
Curated by Meredith Kasabian of Best Dressed Signs and Shelby Rodeffer of Finer Signs
Press and sponsorship requests can be sent to previnylites@gmail.com and/or finersigns@gmail.com
Pre-Vinylettes Artist List
Alex May Hughes, London, UK
Alice Mazzilli (The Brushettes), London, UK
Alicia Jennings, Spanaway, WA
Alicja Polachek, Los Angeles, CA
Anna Frederick, Des Moines, IA
Anna Weber, Astoria, Oregon
Anne McDonald, Christchurch, New Zealand
Ashlee Stewack, Chicago, IL
Ashley Fundora, San Francisco, CA
Caitlyn Galloway, San Francisco, CA
Carol Kauffman, Watseka, IL
Chrissy Lebel, Lynn, MA
Christin Louth (The Brushettes), London, UK
Christine DeShazo, Murphysboro, IL
Crystal White, San Francisco, CA
Darla Dee Hagensick, Corpus Christi, TX
Debra Styer, San Francisco, CA
Dirty Bandits, Brooklyn, NY
Elaine Wallis, Niagra Falls, ON
Hannah Sunny Whaler, Bristol, UK
Heather Hardison, San Francisco, CA
Heidi Tullmann, New Orleans, LA
Hollis Austin, Charlotte, North Carolina
Jennifer Konanz, Alberta, Canada
Jessica Cowley, Los Angeles, CA
Jill Welsh, Butler, PA
Joy Kjer, Lincoln, NE
Judy Grossman, Sonora, CA
Jules M, Los Angeles, CA
Julie Auclair-Eikmeier, Santa Cruz, CA
Katie Cooper, Bristol, UK
Kelley Bell & Shelby Wenzlaff, Columbus, Ohio
Kelly Golden, Detroit, MI
Kelly Spencer, Wellington, NZ
Kelsey McClellan, Chicago, IL
Kimberley Edwards, Los Angeles, CA
Leslie Wood, Oakland, CA
Liane Barker, Brisbane, Queensland, Australia
Marissa Cianciulli, Philadelphia, PA
Megan Wood, Nashville, TN
Meredith Kasabian, Boston, MA
Michelle Nguyen, San Francisco, CA
Miranda Ensink, Amsterdam, NL
Nancy Bennett, Centerville, IA
Nisha K. Sethi, Los Angeles, CA
Noella Cotnam, Ontario, Canada
Norma Jeanne Maloney, Taylor, TX
Olivia Trimble, Fayetteville, AR
Pickles, San Francisco, CA
Rachel Millar, Glasgow, Scotland
Remedios Rapoport, Portland, OR
Remy Chwae, Los Angeles, CA
Sarah Linkus, Milwaukee, WI
Sharon Davis, Omaha, NE
Shelby Rodeffer, Chicago, IL
Suzanne Bircher, Dunn, NC
Suzy Currell, Constantine, Cornwall, UK
Tone Emblemsvåg, Oslo, Norway
Trenely Garcia, Los Angeles, CA
Tricia O'Neill, Gloucester, MA
Vanessa Power, Dublin, Ireland
Wendy Ibarra, Los Angeles, CA
Yvette Rutledge, New Orleans, LA
Zara Gaze, London, UK
Zulma Ruiz Diaz, Los Angeles, CA