CAD Resident Seth Gershberg aka 3pHaze is performing live visuals on May 14th @ Darkroom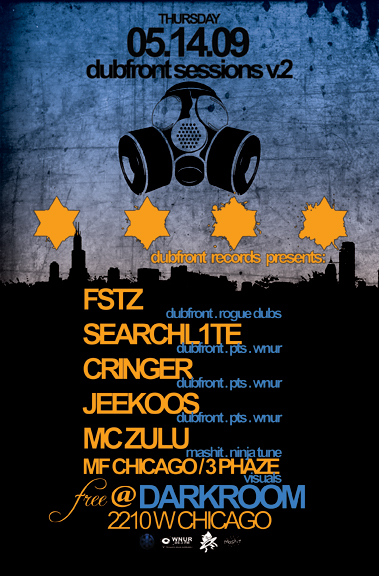 Selectors on the night:
**Searchl1te – 
Dubfront
, Trillbass, WNUR 89.3 Fm, Part Time Suckers : 
www.Searchl1te.com
In the past year alone, Searchl1te has bombed beats in Buenos Aires, NYC, San Fran, Vegas, Chicago and all points between. On the turntables or tweaking a live P.A., Searchl1te lays out monster bass weight and teeth-rattling percussion. Irreverent of genre but observant of vibes, he brings the substep, sarcopha-beats, yard techno, scandalbass and tech:freek biz. His tunes are loaded with his own field recordings, samplings from a nerdy collection of vinyl and collabs with the underground's tuffest lyricists and musicians. The founder of Part Time Sucker Radio, Searchl1te (a.k.a. Kee – BassByThePound Crew) has been doing non-commercial radio for a decade with WNUR 89.3 Fm, 
www.Dubstep.Fm
, 
www.Destroyer.net
 and 
www.Dnbradio.com
.  For a day gig, Searchl1te teaches reading, writing and music production to incarcerated youth in Chicago. Visit
www.FreeWriteJailArts.org
 to peep writing, art, and tracks produced by his students.
"[Searchl1te] ditches the brainless foursquare beats that serve as cha-cha diagrams for the honkiest segment of the club population …His tracks are made of hearty, pulse-pounding stuff: mile-high quantum-overdrive synth pulses, queasy stereo-phase effects from your best panic attack, and sub-sonic free falls that aim to evacuate your bowels." — Chicago Reader
**Jeekoos – 
Dubfront
, Part Time Suckers : 
www.Jeekoos.com
Jeekoos (the English spelling of the Polish word Dzikus, loosely translated as "a feral woodsman") crept into the Chicago music scene playing bass in punk bands and producing four-track hip hop and breakbeat-type madness. Always a seeker of fresh musical experiences, Jeekoos found himself at a party near the end of the century. It was there that Jeekoos encountered jungle music. Soon after, he discovered Part Time Sucker Radio – a consistent source of jungle, breakbeats and DnB. Impressed by the show's selections of styles and sounds, Jeekoos became a regular listener, then a contributor, then a freekin' resident dj. When Jeekoos ran up on Dubstep, with its intensity, gnarly basslines and attention to detail, he naturally incorporated it into his sets and production style. He crafts tunes and mixes that are nothing short of block-rocking. Jeekoos also props up Chicago's low-down sounds with sick event flyers and web design and is the man behind the MidwestDubstep.com forum.
**Cringer – 
Dubfront
, Part Time Suckers : 
www.myspace.com/CringerTheWicked
As a 
Dubfront
 Records banner-man and Chicago Dubstep representative, Cringer has been lacing beats for over 11 years. With music ranging from Deep & Dark to Ghetto Anthems to straight Boogie Tunes, Cringer steps up with a fat sack of dubplate pressure and sub-cabinet assaulting original work. With banging releases on his own
Dubfront
 Records imprint as well as forthcoming releases on Rogue Dubs and Adversion Recordings, It's no wonder Cringer has been top-billing parties nationwide like LA's premiere Dubstep weekly "Pure Filth" and the Dubstep vs. ragga jungle soundclash "Bring tha Ruckus". Come catch The Cringer in action and learn the true definition of "Bass-Pressure"
**FSTZ – 
Dubfront
, Rogue Dubs : 
www.virb.com/Unklefesta
Enter the sonic world of DJ / producer FSTZ and you will be immersed in a universe of progressive dance music that covers a unique spectrum ranging from deep and dubby to relentless and forward-moving. Having recently founded Roguedubs (
www.roguedubs.com
) and co-founding 
Dubfront
 records (
www.dubfrontrecords.com
), you'll find no shortage of new and fresh sounds in the mix when FSTZ is behind the wheels of steel. Along with his hometown crew, Lotus Camp, FSTZ is responsible for throwing "Kablammo!" Kansas City's first all dubstep event. International listeners can hear the sounds of Roguedubradio on 
dubstep.fm
 every Saturday at 9pm GMT. With an ambitious release schedule of music on Roguedubs, 
Dubfront
, and Bassism records FSTZ tunes can be heard on mixes by everyone from Claw, BunZero, Wascal, KidLogic, and The Lexxus to name a few. Having toured from Florida to San Francisco, there is a good chance FSTZ will be coming to your soundsystem in the near future!
**MC Zulu – Mashit, Ninja Tune : 
www.ZuluMusic.net
Panamanian-Born MC Zulu's overall sound and vibe is one of the Caribbean immigrant who came to America, just in time to pick up on both cultures. Never claiming to be a Reggae fundamentalist, Zulu instead takes an experimental approach to his delivery.
His unique, "Reverse 16th" style of singing has allowed him to experiment with many genres the world over, even when they do not conform to the traditional rhythmic structure of Dancehall. Still, referred to as 'Riddim Killah' by DJs and soundsystems, he is most heavily influenced by Reggae / Dancehall music.
"Chicago's Dominique Rowland, known as MC Zulu, has a booming baritone voice that almost knocks you over. Whether he's spitting his signature line "Spread the word!" or chatting political lyrics, Zulu's vocal presence is unmistakable. It's not just the oral intonation but also his clipped phrases, stopping mid-sentence like a flicking typewriter's carriage before starting the next line." — XLR8R Magazine
**3pHaze & MF Chicago – MF Chicago : 
www.MFChicago.com
Visual artist on the night…3pHaze of MF Chicago!
One response to "CAD Resident Seth Gershberg aka 3pHaze is performing live visuals on May 14th @ Darkroom"