Core Resident: Sam Kirk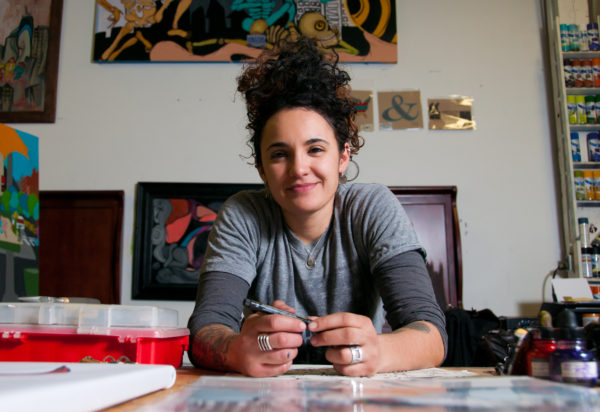 Sam Kirk's artwork celebrates people: to inspire pride, recognition, and positive visibility for underrepresented communities. She highlights culture and identity while addressing the politics which have formed the society for generations. A vibrant color palette, intricate line-work, and multi-toned figures reveal a world where differences are valued. The many shades of beige, brown, and black are seen as equal colors of our genetic makeup. A multi-racial, queer, woman, born and raised on the South Side of Chicago, her paintings and murals combine nostalgic city scenes from her childhood and travels around the world.
As a CAD Core Resident exploring Gender Visibility Kirk will conduct research and create a new body of work that will continue to inspire pride while educating the broader community about Gender Identity. The series will capture how life experience impacts ways in which gender identity is shared or expressed.
WEEKLY OFFICE HOURS:
Wednesdays, 4:30-5:30pm
CONTACT:
sam@iamsamkirk.com
PROJECTS: 
The Alchemy of Us on view April 12, 2019 to May 4, 2019
Long Time No See – Group Exhibition, Fall 2018