Seeding Ceremony
July 7 – September 16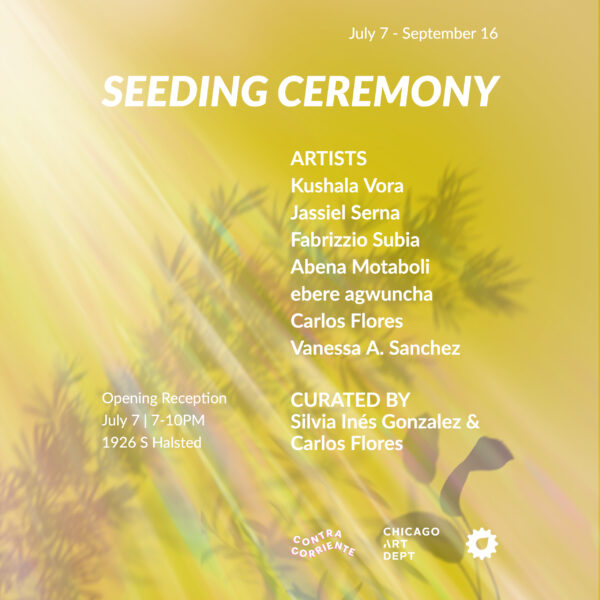 What would it mean to call back our connection to our environment and our sacred responsibility for all living things? What happens when rage is given space to be understood? When grief becomes an access point to our spirited humanity?
Seeding Ceremony is a call to question, feel, and transform socio-environmental harm. The seven artists in this exhibition amplify the connectedness of the current climate crisis in concurrence with a global pandemic through their artistic practices, radical learning approaches, and care. Through video performance, data, muralism, sculpture, and installation depicting various processes, artists address their environmental grief by responding to the realities of living with a consciousness toward the environment. Each artist's response is a seed-like contribution offering light, a release of stagnant energy, poems of gratitude, and pathways for intimate reflection.
Seeding Ceremony is part of the yearly Contra-Corriente Festival bridging solidarity work between artists, activists, and organizations for environmental justice in Chicago. Historically, Chicago's Southwest and Southeast sides have experienced a concentrated and disparate consequence of environmental degradation. How do we begin to uproot these harms to make time for grieving and space for our well-being? The interconnectedness of spirit, environment, and all living things, asks us to reconsider our relationship, response, and responsibility on a structural level as much as in our interpersonal connections.
Seeding Ceremony therefore gives us the space to be in ceremony and acceptance of our mourning, and remembrance, as much as our hope-filled vision for the future. What healing do we wish to mirror between our bodies, neighbors, neighborhoods, and larger collective? What seeds can we offer back as a commitment to healing our tender terrains?
Seeding Ceremony includes Ebere Agwuncha, Carlos Flores, Abena Motaboli, Vanessa A. Sanchez, Jassiel Serna, Fabrizzio Subia, and Kushal Vora